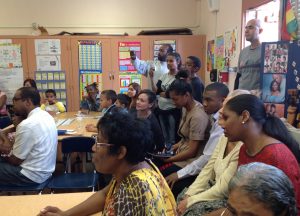 Question: What should I do as a parent?

Studies show that children, whose parents are involved in their education, are more likely to get higher grades and test scores. No matter how old your child is, it's conducive for you to be involved. This demonstrates to your child and teachers how much you value education and their well being. With parent involvement, children are likely to develop self – confidence, be better prepared to reach goals, and function successfully in society.
Ask to meet with your child's teachers early in the school year. Then meet them again later in the school year to follow up on their progress. Always prepare for conferences. Ask your child if there are subjects he/she wants you to discuss. Then prepare a list of your own questions and concerns, and be sure to be on time.
Finally, remember that you and the teachers have the same goal; to make this a productive school year for your child. So if your child is having problems at school, allow him/her to express what they are. Then, when you meet with the teachers, find out if they are aware of the problems so that they can quickly be addressed and resolved. Some questions that you might ask your child's teachers are:
How is my child doing?

Is my child struggling in any subjects?

What are your discipline policies?

What resources do the school have that I may use and exhaust during the school year?

What can I do at home to help my child with his/her school work?
Question: What should I do as a teacher?
Be prepared to create a partnership with your parents. Stay positive and focus on solutions to utilize when you meet with them. You can form trusting relationships with parents, when you explain how working together will help each other understand their child's educational needs.
Plan thoroughly for your meetings, and establish clarity during conferences by asking parents the following questions:
Do you understand the instructional program?

Do you understand your child's needs and abilities?

Do you understand how your child's progress is determined?

Do you have some ideas about what you can do and use at home to help your child learn?

Is there anything else you feel I need to know about your child?

Do you have any more questions or concerns?
Parent – teacher partnerships flourish when all partners accept responsibility, and provide input into what's best for the child and their education.
Reybird
Related articles across the web
Save